| | |
| --- | --- |
| About Xi'an | |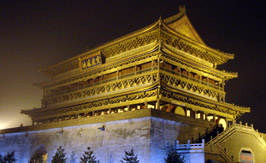 Xi'an, historically known as Chang'an, is the capital of Shaanxi Province. As one of the oldest cities in Chinese history, Xi'an is one of the Four Great Ancient Capitals of China because it has been the capital (under various names) of some of the most important dynasties in Chinese history, including the Zhou, Qin, Han, the Sui, and Tang dynasties. Xi'an is the eastern terminus of the Silk Road and home of the famous Terracotta Army which was made during the Qin Dynasty. More than 3,000 years of history, have endowed Xi'an with an amazing historical heritage. Tourists marvel at the numerous historical sites and cultural relics in and around the city.
Xi?an is not only a world-renowned historical and cultural city, but also an important base for scientific research, higher education, science, technology and industry of the national defence and high-tech industry in China?s central and western regions.

The Silk Road
The Silk Road is international channels with historical significance, passing it, connect ancient Chinese culture, Indian culture, Persia culture, Arabia culture, ancient Greece culture and ancient Rome culture, and improve the exchange of eastern and western civilization. The starting point of the Silk Road is Xi?an, is the right place for the exchange and gathering of eastern and western culture of all ages, and the place that many famous historical characters stayed, left innumerable historical sites and rare cultural relics.

Xi'an Attractions

Museum of Qin Terra-cotta Warriors and Horses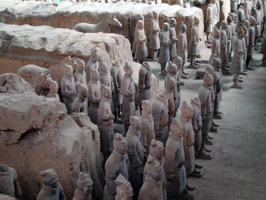 The Terra Cotta Warriors and Horses are the most significant archeological excavations of the 20th century. Work is ongoing at this site, which is around 1.5 kilometers east of Emperor Qin Shi Huang's Mausoleum, Lintong County, Shaanxi province. It is a sight not to be missed by any visitor to China.

Xian Forest of Stone Steles Museum
The Xian Stone Tablets Museum contains the largest collection of stone tablets. The museum houses over 3000 stone steles with a history of over 900 years, and these are all treasures of ancient China's calligraphy masterpieces. The museum also has some of the best of the Han and Tang Dynasty stone calligraphy carvings, and it also contains the largest stone tablet library of ancient historical records.

Xi'an City Wall
The Xi'an City Wall is not only the most complete architecture well preserved of ancient Chinese burghs but also the largest in size and integral ancient military fort of the world.

The Big Wild Goose Pagoda
As the symbol of the old-line Xian, Big Wild Goose Pagoda is a well-preserved ancient building and a holy place for Buddhists. It is located in the southern suburb of Xian City, about 4 kilometres from the urban centre.

The Bell Tower of Xi'an
Built in 1384 during the early Ming Dynasty, is a symbol of the city of Xi'an and one of the grandest of its kind in China. The Bell Tower also contains several large bronze-cast bells from the Tang Dynasty. The tower base is square and it covers an area of 1,377 square meters. The tower is a brick and timber structure and close to 40 meters high.

The Drum Tower of Xi'an
Located in the heart of Xi'an, along with the Bell Tower it is a symbol of the city. Erected in 1380 during the early Ming Dynasty, it stand towering above the city centre and offers incredible view of Xi'an.